Cyber Crime Complaint Center
Welcome to the Cybercrime Complaint Center. We are assisting government agencies, law firms, lawyers, and victims of cyber crime related cases.
Cyber Crime TV Interviews: Solar News Channel, LegalHD (Legal Helpdesk)
First interview was conducted at the Solar News TV Studio with Atty. Rod Nepomuceno and Atty. Karen Jimeno-McBride. The topic was about Cyber Crime in relation to the Violence Against Women and their Children (VAWC) Act; Cyberbullying, Cyber Stalking, Hacking of Computers and Mobile Devices, etc. The second interview was conducted inside San Sebastian College Recoletos de Manila, Recto Avenue, Quiapo, Manila, Philippines several months after the first interview. Topics were about hacking, different gadgets and schemes used in hacking computers and mobile devices.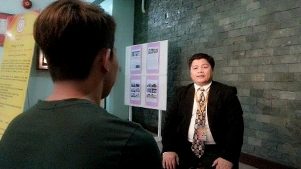 Cyber Crime TV Interviews
Cyber Crime Radio Interviews
Cyber Crime Forums & Seminars
Cyber Crime Seminars, Workshops, Training