Cyber Crime Complaint Center
Welcome to the Cybercrime Complaint Center. We are assisting government agencies, law firms, lawyers, and victims of cyber crime related cases.
Cyber Crime TV Interview: Kabuhayang Swak na Swak
These two-part interviews was conducted at the office of the Filipino Inventors Society (FIS) located at DAR Building, Elliptical Road, Diliman, Quezon City, Metro Manila, Philippines. The first part was about Cyber Crime, Online Libel, Online Reputation Management and the Cybercrime Prevention Act. The second part of the interview was about Search Engine Marketing; How to put your business website on top of the search engines' page results for your select keywords and/or key phrases to help businesses take advantage of the Internet through Online Marketing.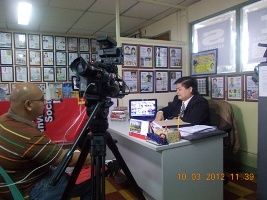 Cyber Crime TV Interviews
Cyber Crime Radio Interviews
Cyber Crime Forums & Seminars
Cyber Crime Seminars, Workshops, Training